I've been fascinated with severe weather my whole life, and since 2009 I've been chasing storms on the great plains. I saw my first big tornado in 2013, but I often miss out on the big events because peak season is May, and my classes at Citytech typically go really late into the month. But I was on sabbatical this spring, and that meant—for the first time since my last sabbatical seven years ago—that this was my last opportunity for a long peak-season chase until I retire from teaching full time. So, I pressed to get the sabbatical articles I was writing submitted early in spring to keep as much of May flexible as possible. Since the weather doesn't plan itself by the calendar—especially these days with all the strange patterns we've been experiencing—flexibility and persistence are key to chasing success.
I also wanted to chase in my own car rather than fly out and rent, since my car is set up for chasing and also this allows me to be less conservative around hail storms and other hazards (blowing out my own windshield is a lot easier to deal with than trying to explain myself at a rental car return counter. However, the drive from here in NYC to the plains is brutally boring and takes two to three days. About three days out is where severe weather forecasts really start to come into sharp focus, so making solid plans more than a few days in advance often results in long drives to see a few sub-severe thunderstorms. I had to be back in NYC for an event I had organized on May 17, so I did some research and found out that long term parking in the few airports out in the middle of the country is very cheap. So, I figured I'd drive out before the 17th, chase whatever was possible, fly home for the event, then fly back out to the plains and chase and then drive home. This plan worked out pretty well.
Part I
Looking at the long range forecasts, I planned to head out on May 6th, but my preparations on Sunday May 5 went so well that I figured I'd head out that night and get a few hours of driving in and avoid the Monday morning NYC traffic. It looked like there was a severe setup in TX/OK/KS for Wednesday, so on Monday I started heading for Tulsa. Unfortunately—as they do—the forecast evolved and the bigger stuff moved out further west than I could get to in time (I can't wait for self-driving cars!). But I pushed through and made it to Kansas on Tuesday May 7 just in time to get on a pretty severe warned thunderstorm inside a tornado watch north of Moline. I ended up talking to a local spotter from the local volunteer fire department and it was a good way to start out on the trip. (Click on any picture for a larger version)
Unfortunately, after that the big weather just really died out. When I'm on a storm I don't notice the time passing and always run into and hang out with other chasers. But when the big weather dies out and everyone leaves it can become a lonely slog, and that's what it was for a couple days. On Wednesday May 8 I headed down for a possible setup in TX, but everything died out and I just went to a movie theatre in Tyler, TX.
Thursday May 9 there was a very marginal setup down towards Houston that was hardly worth chasing, but I went that direction and chased it anyway since that's what I was out for. After driving in circles I thought about bailing and found a room in San Antonio. As soon as I checked in a storm just to my south developed, got a tornado warning, and I was on it. While a tornado never developed it did put on an amazing lightning show. I found a great spot to shoot but fumbling around with my new mirrorless cameras in the dark and the rain and the wind and getting bitten by bugs I missed shot after shot--one out of focus, the next with the lens covered with rain drops and then an amazing bolt hit right in the middle of my frame and got completely over exposed and blown out. The storm moved over me, and so I bailed and headed north to go to sleep, but on the way I saw radio towers get hit by an amazing lightning strike. I found a good view point and the towers got hit repeatedly but again I blew shot after shot. I was just about to call it a night and head back, tail between my legs. But then I checked the camera and saw this one good frame, which made the day's aggravation worthwhile.
After this everything really died out, so I went up north to Austin and had a great time hanging out with friends there. I bought a plane ticket and on Sunday May 12, and after lunch with another old friend in Dallas I left my car and flew home to NYC.
Part II
With days of severe weather in the forecast I had an easy flight back to Dallas on May 17 (I love Southwest!). I chased a marginal setup south of Dallas on May 18, but once again the photogenic storms were too far away for me to get to in time, so instead I made plans to meet with my friend and see some music in Fort Worth that night. The storms were a bust and so I went to the stock yards for a fair, and coming out of dinner I looked up and saw the unmistakable (to a storm chaser) sight of the bottom of an anvil cloud. It turned out that a storm had popped up so I headed west and chased it, and it made a nice cloud over Fort Worth at sunset. I shot this photo and then went to the club.
People often say they want to chase with me, and I love having the company. But unless you're able to commit to endless hours of driving through the middle of nowhere, horrendous food, and the chance of going through this and seeing nothing, it's not worth it. You also have to really flexible, and out in the plains where airports are sparse and flights infrequent, this can make it expensive. However, this year, my old friend Pamela was able to pull it off; she got a last minute flight from LA into Lubbock late on Sunday the 19th.
The Storm Prediction Center makes risk forecasts for severe storms, and they range from marginal to high. Monday May 20 was the first high risk day in two years, and (if I remember right) ended up being my first ever high-risk day chase. The storms were forecast to range from Lubbock where we were, up through Oklahoma and near Oklahoma City. So (for once) we didn't have to go far to get in position in the morning. We were sitting in a gas station east of Lubbock and I saw on Twitter that Ian Livingston, a well known weather writer with whom I had corresponded on Twitter many times, was heading down to the next town over for lunch. I was finally able to meet him and his chase partners Mark Ellinwood and James Hyde in real life. We had a very nice lunch in Crosbyton with him and his chase partners. During lunch, the SPC issued a "Particularly Dangerous Situation" tornado watch—the highest they issue. One thing that storm chasers do is help inform the local population—we talked to many people at the restaurant about what was going on. I'm always amazed at how many locals out here are oblivious to the hazards.
People in Oklahoma, though, are rightfully jump about tornadoes, and with the traffic jams I usually stay far away from any metro area during these kinds of days. so we decided to stay down in TX and away from the crowds. The vast majority of chasers act responsibly, but on these days everyone comes out of the woodwork, along with a lot of locals who really don't have enough situational awareness or meteorological understanding to really responsibly manage these situations. There was a lot of hand wringing afterwards about the crowds on these storms, but to me it's just another factor you have to manage.
In the end we had a long and hectic chase day of several hundred miles. We got on either three or four tornado warned storms-I don't even remember any more how many—but in the end this high risk day ended up producing lots of severe storms but very few tornadoes, which of course is a good thing. We missed one big, scrungy tornado near Magnum, OK, but we also missed the miles long conga line of cars around the storm. We drove back through the rain (and, by chance, the tornado damage in Magnum) and made it to Elk City Oklahoma late that night.
I had already driven several thousand miles at this point, and as we were driving to the hotel at the end of that Monday High risk day chase—in the middle of a desolate stretch of road—my oil pressure light came on. I prepare for anything I can think of, and had some oil in the car, so I put it in and made it back to the hotel. I was due for an oil change anyway, so the next morning (Tuesday May 21) I found a very nice local place in Elk City (with very colorful characters) to get it changed, and then we headed out again to chase. In the end there weren't many storms on this day, and the two tornadoes were way far away and out of the highest probability zone, so most chasers missed them. So after playing around with one gusty storm we bailed to Wichita and caught a screening of John Wick.
On Wednesday May 22 the setup was in northeastern OK, which is not a great place for chasing due to the terrain and historically lousy cell coverage. We headed down that way and checked out the river near Tulsa which was running incredibly high. Just about everywhere we went this year—especially in the eastern plains—the flooding was simply unbelievable; this is a slow motion disaster, the extent of which hasn't really been understood by many. We had lunch near Tulsa and then sat in Vinita, OK, waiting for storms to fire (sitting and waiting when you're in a good position is one of my favorite parts of chasing). We watched the sky go from clear to little bubbling cumulus clouds to seeing small storm after storm form and move right over us. We were watching one storm on the horizon that went severe, and then got a tornado warning. We were in a good position and given the terrain we were lucky to have a road to blast up along it as it moved north east. We saw a wall cloud form and then grew (unfortunately behind a bunch of trees) and lower to the ground.
I didn't report it to the weather service because I couldn't see the bottom, but afterwards via twitter I discovered that the storm was showing debris on the radar when we were looking at it, so it was most likely a tornado in front of us, although we couldn't see it:
We came up behind it as we heard the sirens in Welch, OK.
We couldn't get east without driving blind through the "bear's cage" (the core of the storm, where the tornado might be sitting, invisibly, in the rain) so we didn't. Via twitter, I know it went on to become a clearly visible tornado over in Miami OK. Tragically, this storm system went on into MO with devastating consequences overnight.
The flooding out here is absolutely mind boggling, with fields looking like lakes where you can only know there's a road because of the street signs.
We navigated through that and on our way to Panco City, OK, we caught one little storm that gave us our own private lightning show east of Arkansas City, KS.
The next day, May 23 we drove about 200 miles from Ponca City, OK to Canadian TX (where I saw several photogenic tornadoes in 2015) to get in position. This day—like much of 2019 peak season—was just a sloppy mess, but we did get up to two tornado-warned storms. We drove up pretty close to the first one and got right under the storm south of Canadian and north of Pampa.
Late in the day we started working south, and I got out to take a couple pictures under the whale's mouth:
I heard a woooshing sound behind me to the west from the rain that unnerved me. The radar didn't show much rotation, but the beam is about 6000 feet off the ground up there. This storm system went onto make a wedge tornado back up northeast by Canadian, which was too far away for us to get to with the weird road network up here. So we baled to Borger TX for delicious Mexican and a room for the night.

Friday May 24 was another busy but strange storm chasing day. We headed down south from Borger towards Lubbock. Storms again fired very early in the day, and then set up on an boundary and just pumped out rain and hail for many hours around the same location. We went out west of the storms into the sunlight to see if anything would fire out there, but it didn't so we drove back across the storms and got into some 1/2" hail. Haze from wildfires all the way down in Mexico was still a factor. Downstream (north) these storms also generated the longest-lasting mammatus clouds I've ever seen.
We eventually called it a chase and moved back up to Amarillo and the Cadillac Ranch at sunset. The clouds you see in the distance are actually the anvil from the storm down near Lubbock, about 100 miles away.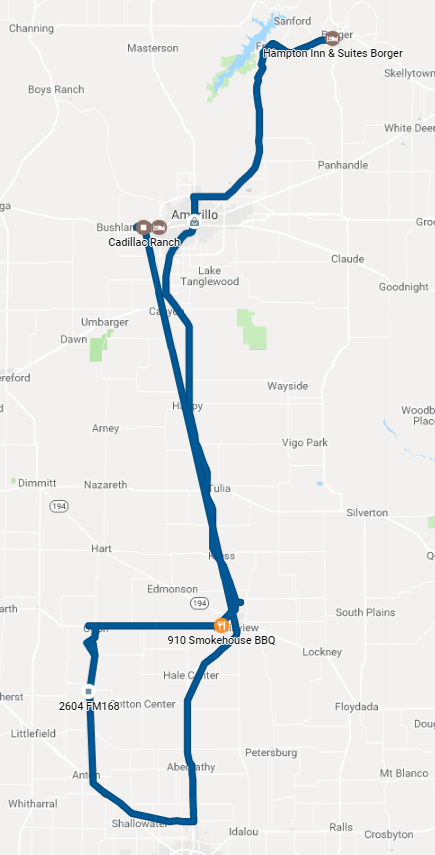 Pamela needed to get back home to California by early the next week, so on Saturday May 25 she rented a car in Amarillo and then each day for the next couple we would position that car and then chase in mine. We drove up from Amarillo to the one big storm sitting off on its own with lots of potential. We got up to the updraft base south of Manter KS for about five minutes and then headed north. We got cut off by the rain and hail and then bailed south and worked around the storm...which promptly died. I rarely feel bad if I miss a storm but I have to say that this trip by this point was really beating me down. Just day after day of getting to a good spot only to have some weird conditions kill off everything.
On Saturday May 26, I was finally able to show Pamela a proper chase on her last day of her first ever chase trip. We left Liberal KS and positioned Pamela's rental car in Garden City, and then headed east to CO. On our way in this weird weather year we could see storms firing out in the distance, but—once again—storms were firing really early. But we managed to got on the first big storm that initiated down by Wiley, CO and watched it turn into a massive hail storm and experienced some close lightning and amazing thunder sounds. The road options out there are very limited and so was our data coverage. We met lots of chasers (including two guys from Belgium) and some locals while we waited and watched that storm die. We moved north to Holly CO and got a tasty burger with the slowest service I've ever experienced. After several days of this frustrating pattern I was just about to throw in the towel, but in the spotty data I saw that we missed a tornado north of where we had been, and got one update that now showed a storm firing back in the sun behind the previous hail storm, and it started showing some rotation. We tried to accelerate our food and blasted east and finally got on the storm west of Lamar—along with the chaser convergence. With the limited road options we were basically just stuck in the parade of cars and managed to move up along the storm updraft. I finally met the great photographer Mike Olbinski at a gas station (of course), we saw every famous chaser and every research team, and multiple wall clouds generate, but no tornado. We were up close to the updraft and Pamela was able to see the fast generation of the updraft (always one of my favorite things—it's silent and freaky). Finally near Cheyenne Wells, the storm caught us and we bailed east to stay out of the hail and head back to Garden City for the night. The storm went on to make one weak, brief tornado back in the rain and hail so we didn't miss much.
After many years this was the first long chase trip where I've had a chase partner, and it was great. Pamela handled the long drives and some strong winds and hail and a lot of real time photo composition from the car and "pull over here, no up there over the rise, no over there past that tree, watch out for that guy, OK here's good." And being someone who explains things for a living it was fun to share the whole experience with someone so interested.
The next day, Memorial Day, Monday May 27, Pamela headed off to the airport and home for a Tuesday meeting and after a brief run to Nebraska, and I left Garden City, KS and after bailing on the northern storms in CO wandered slowly east towards home, hoping that something would fire in KS.
After heading southeast to KS, and several hours of killing time, I spotted a cloud on the boundary south of Wakeeny KS around 6pm.
I watched it for an hour or so and then it started getting going so I ran a timelapse.
After a little while it really started going and I started moving east, and as it entered the more powerful air it just exploded. Fortunately I had the interstate and blasted through it (I had all this recorded on my dash cam but, sadly, that video got overwritten) and was then able to move north and east with the storm, which eventually got tornado warned; I never saw a real funnel but it sure was trying. I had to drive 10 miles or so of dirt roads which made me a bit nervous since the storm had just passed over that area, but after turning back once where it looked too muddy, the Subaru kicked ass and I eventually made it back to the pavement.
I stayed late after sunset to get some lightning shots—it was just an amazing and powerful storm. I blew a bunch of shots trying to get focus in the pitch black, but I got a few:
I gave up on the storm east of near Glasco, KS at around 11:30, and then found a slice of pizza at a Casey's and had to drive an hour or so to a room in Salina. And since most chasers were out west for a big set up for the next day, I had this storm pretty much all to myself—I only saw a handful of chasers the whole time (although I sure could have used a driver for this storm—I missed a lot of shots because I was constantly re-positioning). It was really an amazing storm, and—one of my favorite things—I was able to track the storm from a single puffy cloud to a raging beast. In my hotel after midnight the TV was still covering the tornado warnings on this storm.
Tuesday May 28 I started out yesterday in Salina, KS, not sure what I was going to do. But heading towards home, I headed east and drove through and outran some strong storms across the Flint Hills. I stopped for lunch in Topeka and looked at the forecast. Strong storms forecast from there to KC and east, but wanting to get east towards home and not wanting to be pushed up against the Kansas City metro with big storms around, I went through KC and kept going. I thought about going up through Iowa but decided to go to northern MO and head east on a smaller road and see what happened. One local storm intensified so I pulled off in Bethany, MO. I didn't feel like surfing this thing through the woods so I found a car wash next to a gas station and decided to ride it out there. In storm chasing, we like to be around severe storms but generally try to stay out of their cores, but this was pretty incredible. The lightning was close and amazing so I set up my still camera to capture it but then the core of the storm--with some rotation right over me--really got crazy. I quickly got out my gopro—looking at the video, keep in mind this is several hours before sunset.
I also ran my audio recorder and got one good thunderclap:
It felt like a hurricane and then the hail just really dumped out very quickly, and mostly melted off right away, and there was flash flooding right by the gas station. I've been in baseball sized hail before but in some ways this was crazier—the hail just seemed to just dump out of the storm almost at once. I might try to car wash core punch again in the future.
After this storm I decided there wouldn't be any more photogenic storms (always my goal) up in this area, so I headed south to Columbia MO for the night. On my way, the horrible tornado west of Kansas City fired up and I drove to Columbia listening to the coverage of tornado behind me, while watching the radar of the tornado warning that passed just south of my place in Brooklyn, while voice text messaging (Android Auto is amazing for this) with friends back home who were concerned about the rare tornado warning there.
The next day, Wednesday May 29 I left Columbia, MO and headed east towards home. Some activity was forecast in IL pretty much along my route, so I found a good spot near Buffalo, IL east of Springfield and waited. One storm popped a few miles away, and I started heading towards it when another one popped back up north. I got on it and the storm was moving due east for a while, so I moved east and south to get under the updraft.
It moved south east of Mount Auburn, IL, and I got out and shot a couple photos of the structure, and was about to head east again when I saw dirt rising in the distance and it was the ground circulation of a tornado!
If I remember right, this storm at that point didn't even have a severe warning, so I tweeted the photo at the weather service (initially to the wrong office) and then called in. After some confusion about which office to contact I ended up talking to the weather service in Lincoln about the storm, giving them a running play by play on the storm. Unlike out in the plains there were only a few other chasers on the storm so they didn't have that much information. I talked to some farmers who saw it, and then came across a small group of few local spotters and talked to them about it; one ended up running with me along the storm before heading back up to Champaign.
I watched this storm move southeast into a line of other storms and then sort of bounce north trying to form a hail storm. I ended up following the storm into Crawfordsville, IN. I then headed to east of Indianapolis for the night. By this point I had figured out the problem with the dash cam, so here's the whole chase in a couple minutes (unfortunately the tornado happened off to the west when the car was pointed south on the road).
And I have to extend a special thanks to Skip Talbot, who this year started putting out fantastic daily storm chase forecasts. His forecasts helped on both of these last two days.
After this, I started the long, boring drive home.
This was probably the longest stretch of chaseable days I've ever had, but it was also a long stretch of scungy, early-firing, ugly, fast moving storms, and the whole trip really just seemed rushed until the last few days where the pattern shifted storm motion slowed down. Because it was such a whirlwind I honestly thought this year was kind of a bust, but now, finally getting time to look through these photos and piece together the details of the trip I realize that it was actually a pretty good trip. And each storm really has its own personality, and even after doing this for so long it's so incredibly awe inspiring to see these natural, real life monsters.
And I really feel like this year, for the first time after doing this for more than 10 years, I really have a process worked out. I successfully got on just about every tornado-warned storm it was feasible to get on, managed it all safely, avoided the crowds for the most part, and got some photos with which I'm happy. There's a setup out there this weekend, and man I wish I could go. But I'll be back out there next spring…
Note: All the photos (except for a couple camera phone shots) were shot with mirror-less Nikon Z6. I've now moved completely from DSLR to mirrorless and have no regrets.